---
Schindler's Factory Best Value Shared Visit
Schindler's Factory Best Value Shared Visit

Oskar Schindler's museum

about 2 hours visit

form October 2021 till March 2022 at15:00 pm (3pm) , other departures (10am) will be possible from April 2022

from 22 Euro
---
GENERAL INFORMATION
The history of the factory owner, Oskar Schindler and the fate of the Jewish workers he saved are well known.
Schindler's museum is a place that takes us back in time depicting the fate of the former factory the everyday life of the inhabitants of Krakow and the fate of the Krakow Jews during the German occupation when Krakow served as the centre of the authority of the General Governorship. In the Museum you can see permanent and temporary exhibitions. The history of World War II in this place is shown again, in a way accessible to everyone. Museum collections are archival documents and photographs, film accounts, audio recordings and interactive stands and soundtracks that work on the imagination.
DETAILS
We offer the Oskar Schindler's Tour in the Best Value Shared Visit option. We created this option to satisfy the most demanding of tourists. We visit the museum with a guide in English language.
We will look for You a front of main entrance of the museum - lipowa 3 str. During the tour you will see what life was like in Krakow during the. occupation in 1939-1945, during the Second World War.
The visit will take You up to 2 hours with our guide.
After visiting the museum, we recommend taking a walk around the Podgórze district where you can still see the Ghetto Bochaterów Square with the museum "Apteka Pod Orłem".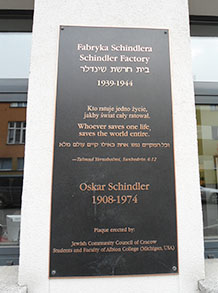 PRACTICAL TIPS
The visit is possible every saturdays & sundays regardless of the weather, the visit is possible in other days of the week with the private guide option, except Mondays (every Monday the museum has a limited number of free entries, sightseeing with a guide on this day is not possible) as well as every first Tuesday of the month museum is closed for visitors.
Photographing and filming require no special permit.
In the PRIVATE VISIT & GUIDE version, it is possible to book a private guide in a given language for an additional fee. The guided visit usually takes about 2 hours . We tailor the tour individually after consulting with you.